At Sterling Event Group, your event is our passion and we pride ourselves on having some of the best AV equipment available, including audio and sound equipment, video, stage, lighting and more. We also offer stage and set hire and custom build for shows, festivals, conferences, corporate events, weddings and exhibitions – or any other live event. Our prices are always competitive, without compromising on service and quality. All our staff are selected for their expertise and knowledge. We offer help and advice at any stage of the AV hiring process. From initial enquiry through to onsite delivery.
We can install your AV hire equipment at your selected venue at a time that suits you. We'll always ensure the highest standards are always met. Whether you require a simple projector and projection screen or a more complex AV set-up for a large-scale conference, we can provide comprehensive AV hire services at Sterling Event Group.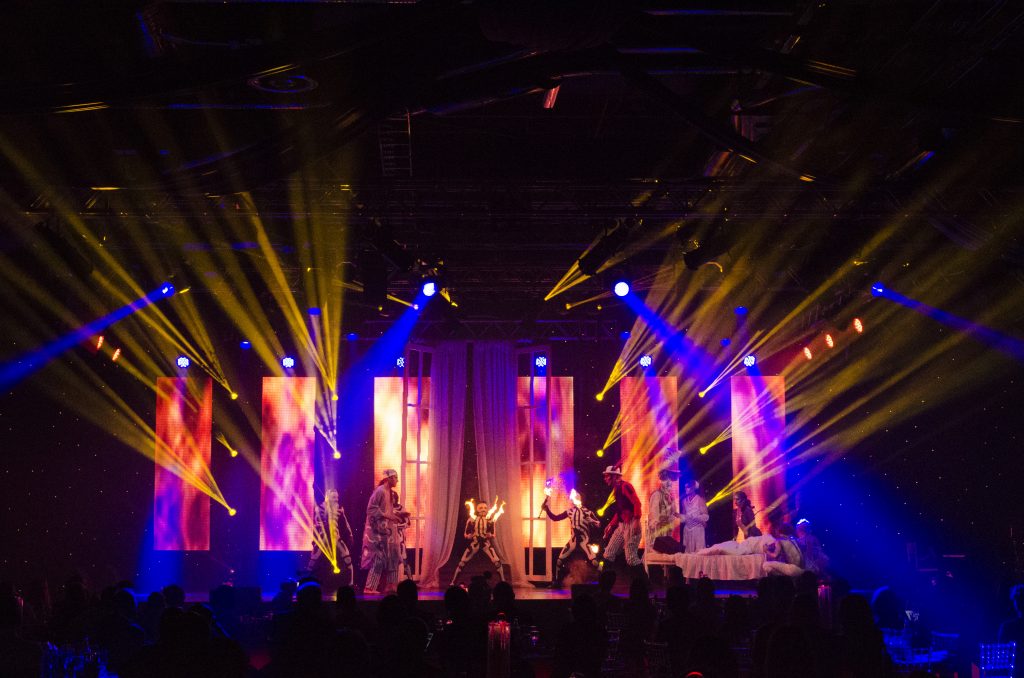 Audio Equipment Hire
We have many years of experience in providing high quality audio systems for corporate and other kinds of events – whether large or small. Our team can provide everything from pre-prepared rolling audio racks that are ready to use for smaller gatherings, to major audio designs for large scale events at venues hosting large numbers of people (such as arenas and large conference venues). Our range of sound AV hire equipment includes:
D&B line array and point source systems
Various digital mixing desks
Wireless radio microphones; handheld, lapel and jawline/headset
Throwable and brandable 'Catch Box' microphones
Lectern and table top microphones
Self-powered laptop speakers
Communication stations and headsets
Playback and DJ equipment
Induction loops
Conference phones
Visual Equipment Hire
We offer innovative visual technologies to create your dream event. Our vision department stocks various kinds of visual equipment for events, including plasma and LED screens, projectors, media servers, cameras and vision mixers. We always aim to stock the latest in modern technology, with high quality equipment to suit your requirements. We regularly update our stock and equipment so we always have our finger on the pulse of the latest trends. Also, we offer advice on the visual look of your event, so feel free to ask us if you have any questions. Our visual equipment for AV hire includes:
A full range of projectors including the latest laser technology
3D Projection mapping technologies
Holographic projections
Small and large projection screens with custom sizes available
Plasma and LCD screens from desktop up to giant 152″
Absen LED videowall panels
Laptops including MacBook Pro and cueing systems
Switchers, vision mixers and recorders
Media servers
Live camera kits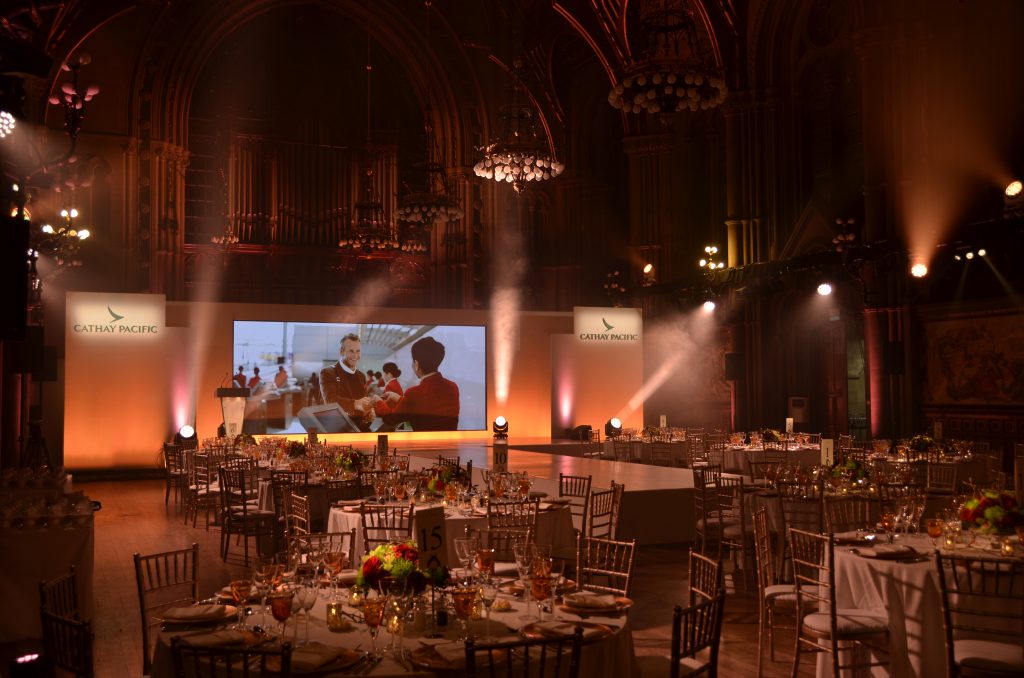 Lighting Hire
We offer creative and innovative lighting design solutions for your event to ensure it's a memorable occasion that runs smoothly. Our highly skilled team are experts in their field and have worked across a variety of both corporate and personal events to design memorable lighting solutions that leave a lasting impression and give your event the impact and professionalism it deserves. We can help you through our lighting AV hire services to showcase products or speakers, illuminate a stage or set, creatively transform a space for an event like a wedding or birthday party, or promote your business. Whatever your requirements, our lighting technicians can make it happen through their expertise and eye for good design. If you like, you can also speak to our team about combining creative video, staging and special effects to create the ultimate light show that truly captivates an audience.
Rigging for AV Hire
We offer a vast range of rigging equipment to suit your needs. These include a selection of various sized trusses, self-climbing ground support structures, electronic hoists, rigging hardware and wind-up stands, tripods and tank traps. Contact us for a quote today.
Set, Stage and Décor Design
We can create your ideal set or stage for your event, and can also include elements such as inbuilt video, lighting and audio for a totally immersive experience. We also offer decorative stage furniture, posts, ropes and drapes in a variety of materials, branding vehicles such as digitally printed backdrops and laser cut logo panels, dance floors including LED lighting and projected floors, and other flooring options including carpet, artificial grass, gloss and mirror finishes. Additionally, we have various staging units with disabled ramps and bespoke steps as required.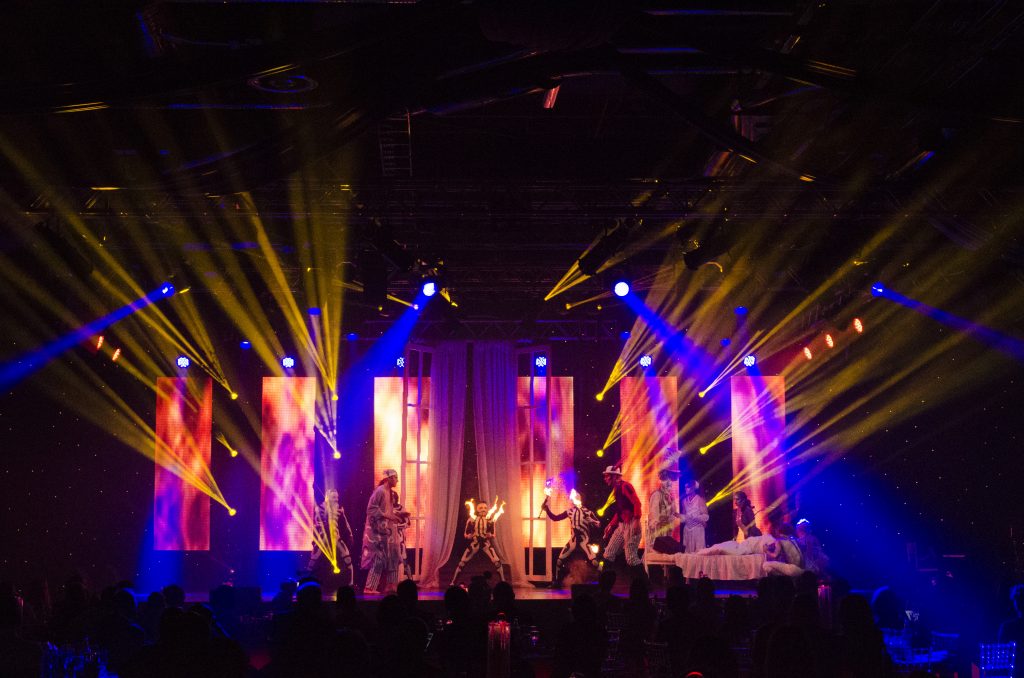 About Sterling Event Group
Established in 1999, Sterling Event Group is the go-to for AV hire and technical event production. Our vision is to source the best in modern technology to provide customers with the cutting-edge tools they need to create a memorable and immersive event experience. The staff pride themselves on their skill and knowledge. Our team encompasses project managers, account managers, designers, office support staff and on site and warehouse staff. All of whom can help you create your ideal event and make your vision a reality. We are located near Manchester airport, but our services are available nationwide across the UK and internationally. Our AV hire is suitable for weddings, corporate events, product launches, sporting events, public events and live music/festivals, and comes with 24/7 support and helpful advice from our team.
We cover the whole of the North West including Manchester, Salford, Liverpool and Merseyside, Chester and Cheshire, Lancaster and Preston.
Talk to us today about how our AV hire and technical event production services can help bring your event to life.