High-quality AV production for your event
We understand that AV production needs change from one client to another, depending on the event type being organised. AV Production requires a variety of audio and visual equipment – and we supply everything from projectors and LED screens, to staging and stage sets, speaker systems, rigging, lighting and much more.
AV production specialists delivering professional technical support across the UK
Sterling Event Group offer industry leading AV production services across the UK, from small AV hires to large event projects. The business now in its 20th year always delivers reputable AV production for all our clients, on a wide range of events.  With years of experience acquired across our 48 person-strong team, we are trusted by our clients. Many of these are global brands. We manage and deliver their events and their client's events nationwide and internationally.
We offer quality AV production on any event or requirement. To clarify, that's anything from the hire of a simple flipchart or microphone to laser projectors and screens for a small event, up to organising the production of audio, vision, lighting, staging, backdrops and sets, LED screens, rigging, plus a whole lot more for larger events and requirements. As your AV production partner, we offer a solid reputable service. We'll advise and design the best AV set up for your requirements.
The team can produce high-end visuals to showcase our ideas and designs, which in turn gives you, the client, an insight into your event and how it will look and feel. With our large stock of high-end technical equipment and our highly experienced personnel, we can and have provided AV production for product launches, fashion shows, awards shows, exhibitions, day-to-day corporate venue events, conferences, sporting presentations, festivals, gala dinners, charity events and public events.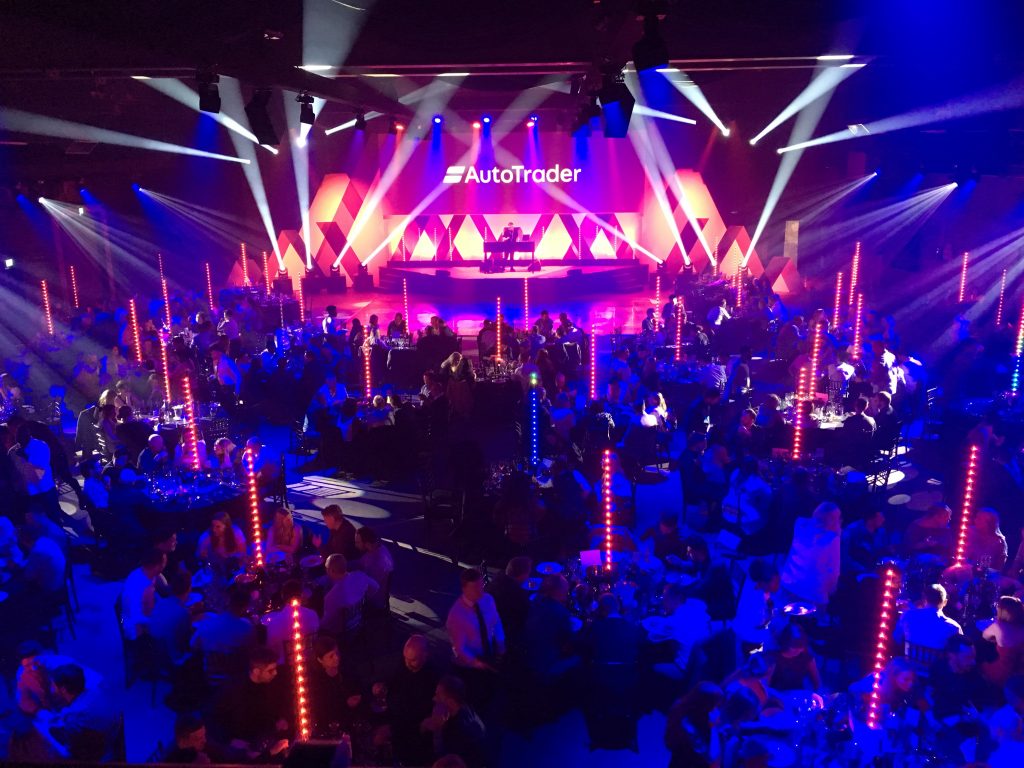 Our clients are testament to our service and you can be assured that your event is in good hands. As part of our AV production service, we can supply high-end equipment including line array systems, projection mapping, large screen blends, modern lighting equipment units, bespoke stage sets, LED videowall, 4K visual technology and full rigging systems. We operate across the UK from our 40,000 sq.ft. warehouse units located close to Manchester Airport, and have a large fleet of industry leading AV equipment allowing us to service all aspects of AV production for our clients. We try to understand what is required at every single stage of your event therefore we can provide our services from concept to finish, ensuring you or your client is happy at every stage pre-event, during and post-event. Working across all sectors of business and industry, and our extensive knowledge means we can provide quality AV production for any event.
We understand how challenging it can be to put together an event with a large audience – it can take a considerable investment of time and money. When you have secured the right people to speak at and venue to showcase your event, you want to ensure that your speakers can be heard and seen by all who attend. This is where our many years of experience in AV Production come in. We offer advice on the staging of your event, and our consultants can guide you on the right types of staging, lighting, audio and visual systems and much more, to ensure that everything runs smoothly and according to plan. We are here to help you plan every stage of your event production. This will mean delivering and installing your audio-visual equipment to a location at a time that suits you.

When you get in touch with us at Sterling Event Group, you will be able to discuss your needs and the type of event you need AV Production for with our experts. We will help you plan the staging, audio and visual aspects of your event in great detail so that it becomes a successful and memorable occasion. We offer some of the best AV Production equipment, including video, audio, lighting, rigging, staging and more. Tell us about your budget and we can help to make something work for you – our prices are competitive without compromising on quality.
Audio equipment hire
We have the latest in audio technology to make your event a memorable one. Do you need the right microphone for a speaker or mixing equipment? We're audio quality specialists and can make it happen. We offer audio equipment including:
PA Systems
Speakers
A range of microphones
Line arrays
Sound boards
Mixers
Working together with you, we will create audio production to make your event slick and professional through supreme audio quality. We will co-ordinate all aspects of the sound production at your event. Be assured that your event will run smoothly at all times.
Visual equipment hire
We understand that you want your event to be a memorable one, and a key part of achieving this is through stunning visual production. We offer visual equipment including plasma and LED screens, projectors, media servers, cameras and vision mixers, to make sure that your audience remains truly captivated. Our stock and equipment is in line with the latest trends and modern technology, and our helpful advisors will carefully consult with you to answer any questions you may have and give advice on the appearance and technical visuals of your event. Our visual equipment for AV hire includes:
A full range of projectors including the latest laser technology
3D Projection mapping technologies
Holographic projections
Small and large projection screens (custom sizes available)
Plasma and LCD screens from desktop up to giant 152''
Absen LED videowall panels
Laptops including MacBook Pro and cueing systems
Switchers, vision mixers and recorders
Media servers
Live camera kits
Lighting hire
Good lighting is key to any successful event, as without it, your audience cannot focus properly on what is happening. Our innovative lighting design solutions are designed to make your event leave a positive lasting impression on your guests. Sterling's team of lighting experts have worked across a variety of both corporate and personal events to design perfect and memorable lighting solutions.  Our lighting production services can enable you to beautifully showcase your brand's products, guest speakers, illuminate a stage or set, or creatively transform a space for an event such as a wedding. Whatever your requirements, our lighting technicians are here to make your dream event a reality through their knowledge and experience in creating premier visual design.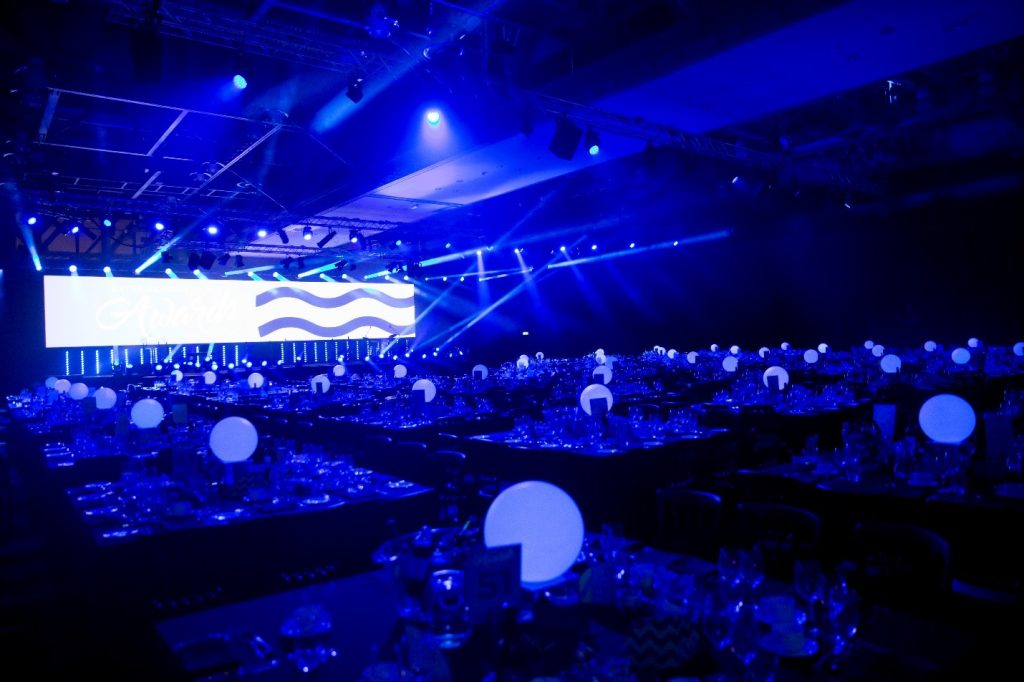 Rigging for AV Production
When it comes to AV production, we offer rigging equipment to suit your event requirements, including trusses in different sizes, self-climbing ground support structures, electronic hoists, rigging hardware and wind-up stands, tripods and tank traps.
Staging design
If your event has the right staging design, it becomes a lasting memory that stays with your attendees. Staging is one of the key focus points to any event, and at Sterling Event Group we can use a combination of AV production techniques; visuals such as LED walls and projection mapping to create a high-impact creative presentation that keeps an audience engaged throughout the duration of your event. We can include elements such as in-built video, lighting and audio for a totally immersive experience
If you are need of props and furniture for the staging of your event, we also have a range of staging decorations including posts, ropes and drapes in a variety of materials, branding vehicles such as digitally printed backdrops, laser cut logo panels, dance floors including LED lighting and projected floors. We can also help with those finishing touches. This includes carpets in various types and colours, artificial grass, gloss and mirror finishes. We can also install disabled ramps and bespoke steps for stage access.
About Sterling Event Group
Talk to us today about how our AV Production services can help make your dream event a reality.  At Sterling Event Group, we provide the latest in cutting-edge technology to provide customers. We have the tools they require to create an immersive and captivating event experience. We are located near Manchester airport, but our services are available nationwide across the UK and internationally. Contact us today for AV Production services.