Specialist lighting equipment hire for your next conference or celebration
Sterling Event Group has grown to be one of the UK's leading audio-visual suppliers in the UK and we now stock an extensive fleet of lighting equipment for hire. With brands such as Avolites, Chauvet, Astera, Clay Paky, Robe, and MA (to name a few branded suppliers) housed within our large stock of lighting equipment, means we can offer a wide range of professional lighting options for your next event, no matter what your budget is or your requirement. If you're looking to hire lighting equipment such as moving lights, washes, spots or desks, then we can supply the full range from our large extensive stock of lighting equipment for hire.  We offer bespoke and creative lighting design, production and equipment. We work closely with our clients and consider all elements and objectives allowing us to design bespoke lighting systems that enhance or transform your event. From subtle to spectacular, our experienced team will advise on the most effective lighting solutions available.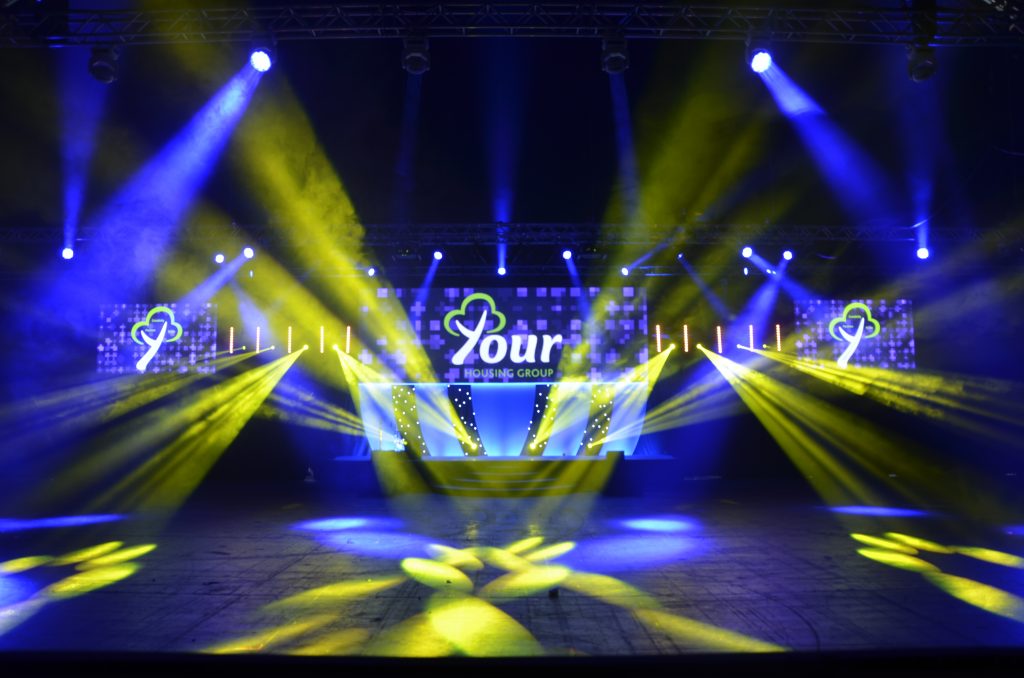 Our expert team has a wealth of experience, working across a range of events designing effective and impactful lighting systems. Transform your venue, highlight and showcase your product, illuminate your stage set or promote your brand. Whatever your brief, we have a mass of the very latest technology at our disposal which, combined with our expertise, leads to endless creative possibilities. Do you want to take your event to the next level? Why not combine a stunning light show with creative video, special effects and unique staging to create the ultimate immersive experience.
Our range of generic stage lighting units are perfect for your next conference or exhibition requirement.  Should you be looking for a more complex lighting package with moving lights and rigging etc for an upcoming awards show, gala dinner or live public/ music event, you can be assured that we can supply this as well.
Our lighting equipment
Hiring the correct lighting equipment shouldn't be a difficult or daunting task, lighting is a fundamental part of any event and can dramatically change your setting, atmosphere, venue or ambience, therefore you should utilise a company that can deliver the right lighting equipment for your needs. Sterling Event Group has over 20 years of experience in the event and AV industry and can offer the following types of lighting equipment for hire;
Control units – large range of specialist control desks which can be programmed pre-event within our specialist pre-visualisation suite at our Sterling Event Group HQ in Manchester
Intelligent lighting – which can add many different elements to your overall look and feel
Room Up lighting – using the latest wireless LED lighting & wired lighting to transform venues both internally but also externally
Gobo Projection – project your brand logo, names, initials or even a pattern to add interest to a lighting design or to add a breakup design to any venue
Pinspot lighting – to highlight your delegates tables and or stage/ presenters
Colour wash lighting – to make your venue/ marquee/ stage/ room on brand or to alter the feel of your venue.
Moving effects lighting – to provide moving and special effects during awards, dinners or during a live music event
Retro lighting – for that added touch of glam, we can provide retro units that create a great backdrop to any entertainment
Modern lighting units – made popular by music videos etc, these units are great for adding special effects to backdrops, ceilings, entranceways and sets. Available in combinations of sizes and all wireless and fully DMX-able.
Festoon Lighting – to hang across any venue or external space
Fairy lights – great for wedding backdrops and internal/ external theming
Pyrotechnics & Haze – add wow to your lighting with haze and/ or pyrotechnics such as Sparkular, Sparkular Fall, Co2 Foggers, MDG Haze, Chauvet Vesuvio colour changing and various other units
Vintage Filament Lighting
Top table lighting
Stage Lighting Hire
Light up letters – wooden or coloured to create a vibrant backdrop – great for weddings or for corporate branding
Dance floor lighting hire inc. LED dance floors – available in a combination of layouts, including black, white, LED uplit and lots of other configurations
Outdoor venue lighting – including projection of brand, themed colouring and 3D mapping
External safety & work lighting – for use in marquees, sporting presentations and exhibitions
Lighting equipment hire across the UK
We deliver lighting equipment to a variety of clients and events in a wide range of event venues across Manchester, Liverpool, Leeds and the UK; we received the following feedback for an event held at Gorton Monastery in Manchester – "Just wanted to say a HUGE thank you for Saturday's job. The final result of our mahoosive rig and production at The Monastery was absolutely AWESOME. Literally, the lighting took my breath away and you absolutely smashed my vision. The entire production was breath taking."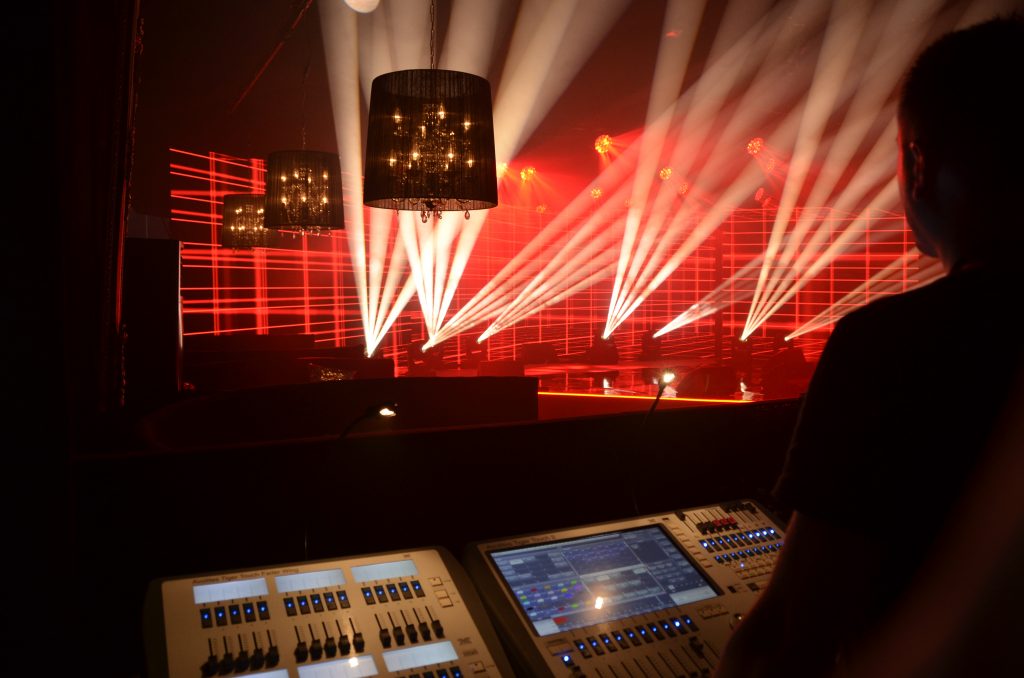 We can deliver lighting equipment hire for all types of events including music, live shows, theatre events, sporting presentations and public events. We delivered a recent Boxing event for our client and received the following testimonial – "Just wanted to say thank you for all the help leading up to it, and the three guys on the night were flawless, your lighting engineer completely smashed it out the park with the lighting!" Our comprehensive portfolio of lighting equipment means we have all of the tools at our disposal and we can offer all types of specialist lighting displays including but not limited to spotlighting player / athlete entrances, special effects, moving lights and pre-programmed displays.
Another event management agency client gave us the following feedback following his lighting equipment hire – "It was a great event and ran well. The evening lighting was absolutely amazing, your lighting technician is such a talent and he worked at it to give us a great show. His enthusiasm and pride in his work showed. Please pass my thanks on to him." As well as equipment, we can also supply specialist technicians to produce and operate your event or show. Our vast portfolio of lighting equipment means that we can provide specialist technology combined with creativity to bring the best experience to your audience.
If you are unsure of what you require for your lighting equipment hire or if you're planning an event or would like to hire particular professional equipment for an upcoming requirement, our specialist audio visual hire and projects team would love to talk to you. Remember, not only do we supply lighting equipment for hire across Manchester, Cheshire, Lancashire, Liverpool and Leeds but we also frequently travel the UK and can often be found across the country from London to Glasgow. We deliver first class event lighting design and hire along with full technical event production in Spain, Cyprus, France, Italy, Dubai and Abu Dhabi to name a few international destinations we have worked at.
External lighting equipment hire
Did you know we also supply Outdoor External Lighting?  We have capacity to supply the right lighting solution for your next external event including marquees, festivals and working sites.  Supplying as stand-alone units or as linkable lighting chains, our lighting fleet is ideally suited to a range of outdoor or site requirements. We can provide a full service for outdoor requirements that also tie in well with your internal event requirements.  As well as the lighting equipment hire element, we can also provide a combination of power and distribution for any final lighting requirement.
We've a vast array of lighting equipment available to hire, along side our other specialist sectors of vision, staging, rigging and audio. Get in touch today and see if we can help you on your next event!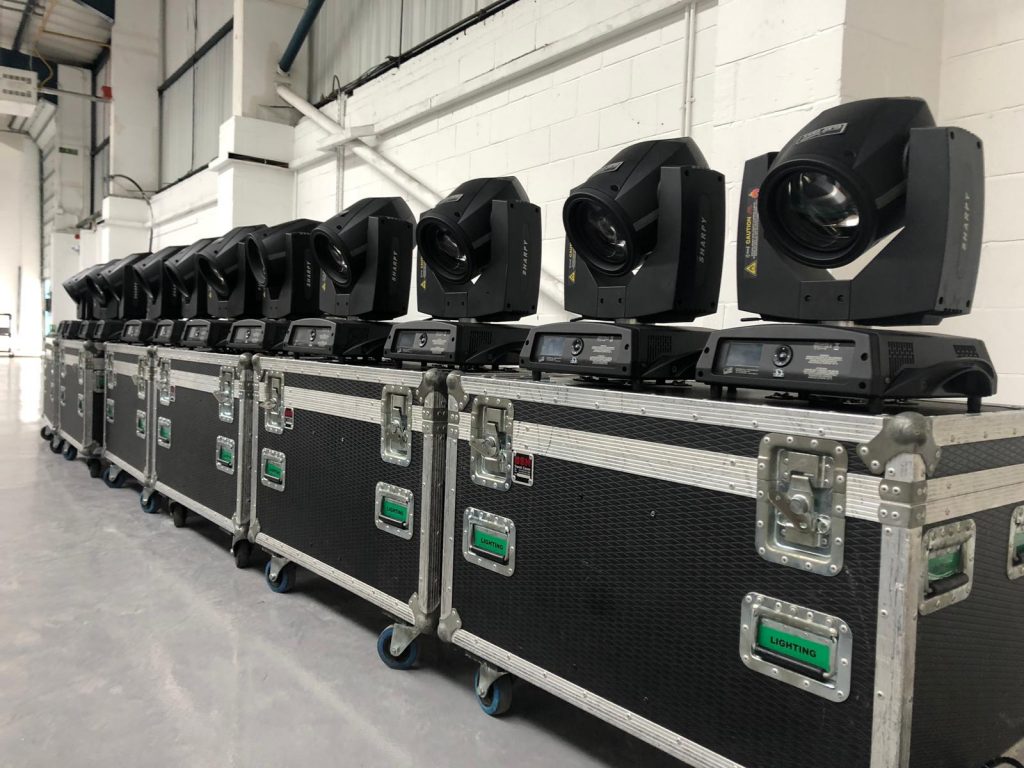 Adding lighting to your event can revolutionise and completely change the way your event looks and feels. Lighting is the perfect way to create atmosphere coupled with other AV elements. We have many years of experience delivering lighting equipment and also designing full event lighting solutions. If you aren't certain what you require please contact the team as we have a large selection of lighting products and systems. We would be very happy to advise you on the best event lighting hire solution for your next requirement.
As well as lighting equipment hire, we also stock a wide range of audio visual equipment including audio, vision, staging, rigging, set and furniture. If you have a particular requirement coming up that you need aid with don't hesitate to contact us or please take a look at our specialist departments on our Equipment Hire section of the website.