Full range of audio visual equipment to hire
Established in 1999, Sterling Event Group have become one of the UK's leading suppliers of audio-visual equipment hire and rental.  From our 40,000sq.ft Manchester Airport based offices and warehousing, we supply the very latest specification audio visual equipment hire to event organisers, events venues and other audio visual companies. We can accommodate most audio visual equipment hire requests.  Our 45-strong experienced team of audio visual specialists can look after all aspects of your AV equipment hire requirements and provide the most modern professional and suitable equipment to match your requirements.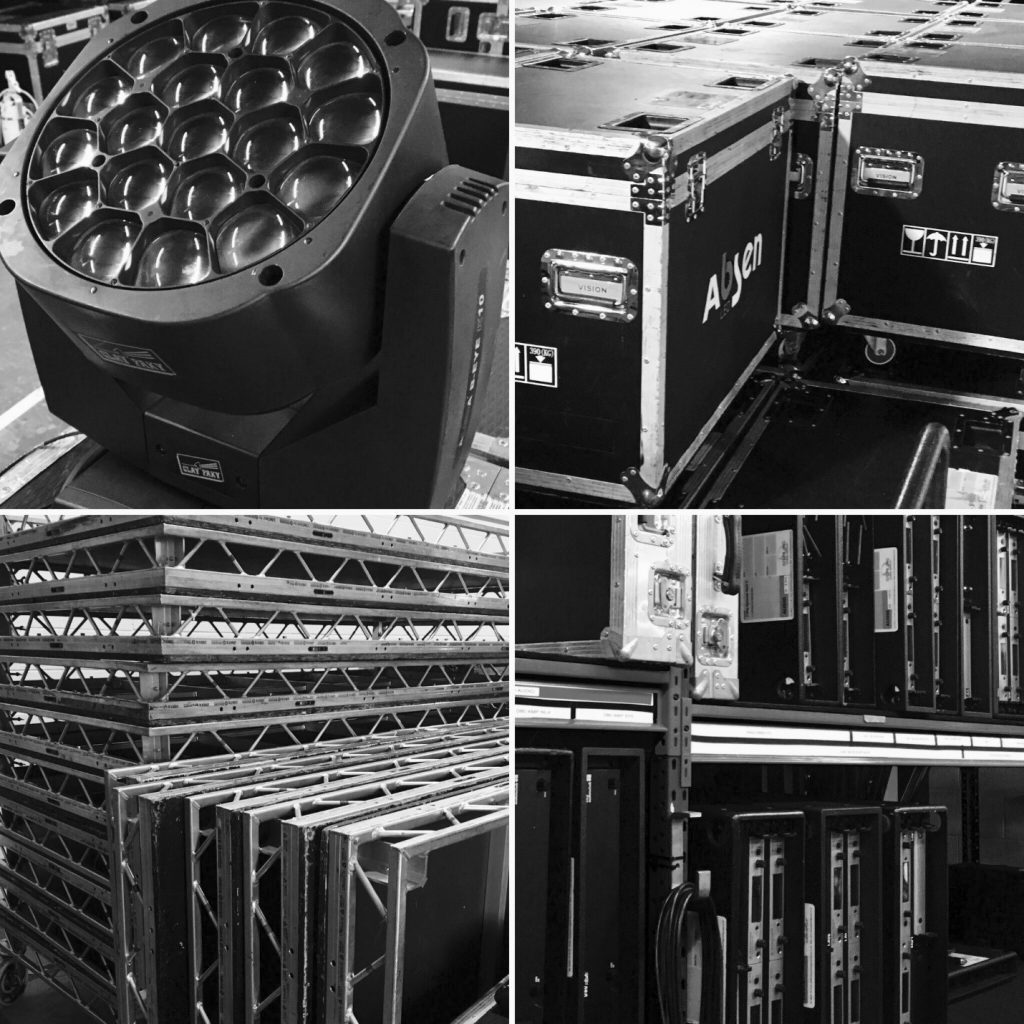 Our audio visual equipment hire services include:
PA System Hire – varying makes and models to suit any level of event
Microphone hire including Lapel, headset, hand held, lectern and the popular throwable CatchBox microphones
Projector hire – inc. lightest specification laser projectors and short-throw projectors
Absen LED video walls – HD and configurable to any size/shape
Plasma and LCD screens – new range of 4k technology available in range of sizes from 43" to 86"
Projection screens in range of sizes – rear and front projection
Event technology including projection mapping, VR and holograms
Live camera feeds – for live relay and/or recording
Content Control/Vision Mixers – wide range of laptops, MacBooks, switchers, processors and controllers
Power distribution and cabling
Voting systems – for Q&A in conference etc
Twitter / social media walls – to engage your delegates across your event
Staging hire – mix of heavy and light weight deck for all event spaces
Full stage set design and build – including bespoke designs, visualisations and creation
Lighting hire including modern wireless and moving lights
Pyrotechnics including Sparkular and MagicFX cannons
Gobo / Logo projection – stock images and made to order
Furniture – including LED furniture, ropes and poles and Gas Flambeaux
Rigging – full range of rigging equipment
Audio Visual equipment is an important element for any type of event. No matter what size or type of event you are producing, audio visual equipment will make a huge impact to the look and feel of your event. With this in mind, our expert team will be able to design and supply the right equipment to suit your requirements. From small events requiring only simple AV systems, to full scale productions requiring audio, visual, lighting, staging and bespoke design.
Full equipment setup and de-rigging
As part of our audio visual equipment hire service, we will prepare your kit prior to your event, set up all equipment onsite, operate the equipment and de-rig everything post event. Alternatively, you can dry-hire the equipment and rest-assured that all equipment you hire is pre-prepared by our specialist warehouse team and is fit for purpose. We stock modern professional technology as well as employing qualified engineers, project managers, account managers, specialist venue technicians, designers and AV technicians.
With two decades of experience in event production we have the experience to deliver outstanding results for every event. Our team are passionate about all aspects of audio visual, and we work closely with each and every client to ensure we achieve the best results and exceed their expectations. A large proportion of our clientele is AV production companies, and we are more than happy to supplement your equipment to deliver top class events.
The brands we stock do include (but not limited to);
Astera
MagicFX
MDG
Ohm
Barco
Chauvet
Yamaha
Robe
MA Lighting
EXE Rise
Prolyte
Barco
If you want to hire a specific item to utilise alongside your own kit, please contact the hire team to discuss your requirements. We stock a vast and wide range of audio visual equipment and will be able to meet your requests and also offer advice as to the best system to utilise or correct equipment to make your event run smoothly. Alternatively please visit our equipment-hire site and register to see pricing, day and weekly, and a large range of kit that we stock including; Loudspeakers, powered loudspeakers, loudspeaker rigging, amplifiers, digital mixing consoles, networking and computing, analogue mixing desks, radio microphones, lapel and headset microphones, DI boxes, in-ear monitoring, headphones, communications, playback & DJ equipment, audio multicore, induction loops, conference phones, LED screen, projectors, projection screens, monitors, screens, data video switchers, vision mixers, media servers, cameras, tripods, lenses, lighting control, dimmers, generic lighting, LED lighting, wireless LED lighting, moving lighting, pea lighting & festoon, pyrotechnics, working lights, set, revostage, stage steps, ramps, lecterns, LED furniture, presentation accessories, chandeliers, exterior gas products, truss, hoists, rigging hardware, stands, ladders, dancefloor, starcloth, draping, pole & base system, single phase, three phase, cable management. All our equipment can be viewed on our site, otherwise please contact the audio visual equipment hire team on 0161 4364444.
We received the following feedback from our venue client in Manchester – Concorde Conference Centre:
"I just want to say THANK YOU so much for all your support throughout the planning of the event on Wednesday and on the night itself!  I am really grateful for all your help and assistance; it means so much and it could not have been delivered without all your help. I have been inundated yesterday and today with clients expressing their thanks for such and amazing, seamless, wonderful, fantastic, friendly, professional and memorable evening, that's just a few of the lovely words mentioned! Great feedback on the food, the décor, the staff and the AV, everyone thought it looked great including myself, I was very proud!"
Another audio visual equipment hire client said:
"Thanks to you and the team for everything yesterday – the client is absolutely delighted – described it as the best event yet – so thanks for all your hard work and the teams!!"
So if you are organising an event and require first class AV hire we would love to hear from you. We frequently supply AV to conferences, dinners, speaker events, presentation events, awards ceremonies, gala dinners, exhibitions. experiential events, brand launches and product launches working with some of the largest corporate and trade event organisations across the UK.
Contact our friendly audio visual equipment hire and event production team today with any requests or for any event advice!